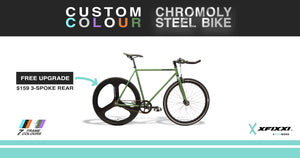 The balance of strength, performance and budget - xFixxi Chromoly Steel Bike - Assembled in Canada
Celebrating the launch of xFixxi Chromoly Steel Bike - The balance of strength, performance and budget.
The family behind xFixxi is always passionate in bringing the best biking experience to all Canadians. Designed in Canada and sourced internationally, we are proud to announce the ultimate balanced bike of strength, performance and budget - The xFixxi Chromoly Steel Bike. And, it is Assembled in Canada per order!
FREE UPGRADE to $159-worth 3-spoke Rear Wheel (Time Limited*)
Celebrating the launch of this well-balanced budget-friendly bike, for a limited time, we would like to offer every bike enthusiasts a Free upgrade to an awesome-looking aerodynamic 3-spoke rear wheel that give you both performance and boldness. This rear wheel worth $159 itself!
Attractive, eh? Get your XFIXXI Chromoly Steel Bike Now:
How custom-colour works?
As you may know and seen from the banner above, this bike's frame is custom-colour, which mean, you can choose the colour of the Chromoly Steel frame you like, from MATTE BLACK, GLOSS WHITE, LAVENDER, ARMY GREEN, COPPER, SILVERY and ANGEL BLUE. Then we will build your bike following the specification listed, and we will bring the bike to you for FREE (Greater Toronto Area only, choose FREE GTA delivery at checkout). 
Choose Your Now:
MATTE BLACK | GLOSS WHITE | LAVENDER
ARMY GREEN | COPPER | SILVERY | ANGEL BLUE
Assembled in Canada
As your bike will be assembled once after your order, that means, besides the FREE 3-spoke rear wheel upgrade, you can feel free to choose any other parts to upgrade to your bike, and we include the installation for you and waived the labour charge (Wow!). So, take a look on our Parts, with your creativity, build the unique bike that no one can match with yours. 
Remember to give us a note when you place the order to let us know if you want your extra parts to be installed and fine-tuned. :)
---
*Terms and conditions
XFIXXI Chromoly Steel Bikes are assembled in Canada upon customers' order of their frame colours. As it is custom-built per order, it may take 2-5 business days to ship.

The free upgrade of the $159 3-spoke rear wheel is a time-limited offer, and is until 21 November 2021 23:59 EST, or until stock last, or any further notice by the store. This free upgrade is not redeemable as cash, store credit or refund.
Shipping does not include the province of NT, NU and YK, please contact us for special shipping arrangements.
Greater Toronto Area (GTA) resident in Ontario (See shipping eligibility for details), can opt to get the bike assembled and tuned to a ready-to-ride status. Please leave us a note upon purchase.
Parts and accessories may enjoy free shipping (GTA only) or no extra shipping cost (Canada-wide) together with any purchase of XFIXXI Chromoly Steel Bikes.
Canada-wide shipping does not include bike assemble. Bikes are shipped in a box for orders outside the GTA. Customer has to assemble the bike by

 

referring to the menu and our video tutorial.
Canada-wide free shipping of XFIXXI Première bikes do not apply to XFIXXI Chromoly Steel Bikes.
Marketing Partner: LRDG
---