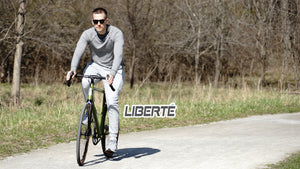 Introducing the Liberté - xFixxi's newest model!
Introducing the Liberté - xFixxi's Newest Belt-drive Bike for Canadians by Canadians
Are you looking for more freedom on the road? Are you sick of dealing with broken, stuck or staining chains? Do you want an impressive, flashy bike that will turn heads? If you answered "yes" to any of these questions, you'll want to check out this new bike for all Canadians! xFixxi's newest release, the Liberté Series is an all-terrain, belt-driven, single-speed bike for the discerning cyclist.
What is Liberté - The Canadian-first Belt-drive Bike?
Named for the French word for "freedom," the Liberté was designed to handle a wide variety of conditions, from the city streets you take every day to the parks and back roads you explore on your time off. Like all of our bikes, the Liberté is a single-speed bike. It comes in four sizes: 46 Modiqué (s), 50 Reguliér (M), 54 Grand (L), and 58 Très Grand (XL). 
No matter which size you pick, the Liberté is light and easy to handle. Its frame and fork are full-aluminum, sturdy and resilient, and it weighs a total of 9.8 kilograms with all features. Whether you're packing it into your car for a long trip or carrying it onto a city bus, the Liberté travels well.
Have a look at the bike demonstration:
The Liberté also comes with a variety of ease-of-access features, such as the Thru-Axle Skewers system that makes replacing wheels quick and easy. It is built for your comfort as a cyclist, with Comfort-focus drop-handlebars. It isn't just a good looker: the Liberté is a functional, customizable beauty of a bike suitable for cyclists of all skill-levels. 
The Liberté's key feature, however, is its belt-drive. Rather than using a chain, this bike employs the Gates Carbon trim belt with nylon-toothed grip to turn its wheels, just like in your car. This may sound unusual to a bike, but belt-drives on bikes are actually widely used in high-end races all over the world. It's a new and exciting trend that is just waiting for Canadians to explore.
The Benefits of a Belt-Drive System
So, what are the benefits of using a belt-drive over a traditional chain? There are many reasons why you might want to make the switch, but the most notable ones include:
Lighter, Quieter and Cleaner: Aesthetically speaking, belt drives have a lot of things going for them. You won't have to wash the oil and grease off of your hands or pants after switching to a belt-drive, nor will you have to put up with the squeaking and whining of an un-oiled chain when you bike. 

Less Maintenance: Fiddling with the chain is the least enjoyable part of cycling, and a lot of that comes down to how wear-and-tear sets in overtime. Belt drives are much better at keeping their shape over a long period than chains. They are less mechanically complex, without any moving parts or pins required. As they are not metal, corrosion is no longer a problem, extending the lifetime of your belt to 4 times the length of a traditional bike chain.

Heightened Efficiency: There is a notable improvement in performance when it comes to the belt drive system. Among other things, belt drives maintain a straight drive line between your front chaining and rear cog, ensuring a direct spin.
If you're not entirely convinced, we recommend a test-drive. We're certain that the differences will speak for themselves.
Get your stand-out bike from xFixxi!
Whether you're looking for a starter bike, thinking of upgrading or looking for a gift for the special cyclists in your life, the Liberté is the bike for you. If you're interested in purchasing your own Liberté, or if you're interested in viewing our catalogue, consider taking a look at our web store. We at xFixxi are excited to share our love of cycling with you. Happy trails!
---