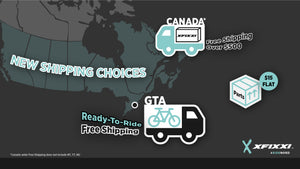 xFixxi Bikes 2023 New and Free Shipping Offers

ENJOY FREE SHIPPING FOR ALL BIKES IN 2023!
You asked for it, we, at xFixxi, make it happen!
Now, all bikes get free shipping, Canada-wide!
---
Starting from 2023, you'll find these icons on select product pages, showcasing our new shipping offers at xFixxi.
---
Introducing Pick-up Privilege
Did you know that having a bike that's tailor-suited to your body can improve its performance and reduce the risk of injury? That's why we're offering free adjustments to your bike when you pick it up from our store.
To take advantage of our Pick-up Privilege, simply allocate at least 30 minutes for your pick-up session. We'll customize your bike to your body with all the necessary settings and fittings, including seat height, handlebar angle, braking side, and fixie setup. Plus, we'll fully assemble and tune your bike for free.
All these Pick-up Privilege adjustments and fittings are Free and exclusive to pick-up orders.
---
Ready-To-Ride Free Shipping for Greater Toronto Area (GTA)
At xFixxi, we believe that your biking experience should be hassle-free. That's why when you order a bike from us and live in the Greater Toronto Area (GTA), we'll make sure it's Ready-To-Ride! This means that your bike will arrive Fully Assembled, Tuned, and Lubed, so you can jump on and test it out as soon as we hand it to you.
The GTA includes the following areas and their surrounding communities, listed in alphabetical order:
Ajax

Brampton

Etobicoke

Markham

Mississauga

North York

Oakville

Pickering

Richmond Hill

Scarborough

Toronto

Vaughan
To take advantage of this offer, simply choose "GTA Free Shipping: Ready-To-Ride" at checkout. It's that easy! We're committed to ensuring that your biking experience is enjoyable and stress-free from start to finish.
---
Semi-assembled and Free-shipping for most of the Canadian provinces
We've got you covered, even if you're outside the Greater Toronto Area (GTA). Your bike will be delivered semi-assembled with 3 to 4 parts that need to be put together. Don't worry, we'll provide detailed instructions to make fine-tuning a breeze, and you'll be ready to ride in no time.
Canadian provinces that are included in our Free shipping offer:
Alberta (AB)

British Columbia (BC)

Manitoba (MB)

Newfoundland and Labrador (NL)

New Brunswick (NB)

Nova Scotia (NS)

Ontario (ON)

Prince Edward Island (PE)

Quebec (QC)

Saskatchewan (SK)
Feeling excited? Have a look at our bikes now:
---
Semi-assembled and Special Shipping Rate for the USA
Living in the USA and want to own a high quality fixie or single gear bike? XFIXXI is the place for you. 
In 2023, whatever you buy from XFIXXI, no matter a bike or a wheel or any accessories, add a flat C$50 will get the product shipped to your doorstep in USA! (Hawaii excluded)
Check out our products that makes your ride great! 
---
Free Shipping on any order over C$500, otherwise C$15 flat rate for any Parts and Accessories
We understand that you like to customize your bikes, and do DIY, and so do we.
That's why, we make shipping easier for you. All Parts and Accessories can be shipped to you at a flat rate of C$15, this offer is Canada-wide (except the 3 Northern territories).
Get Free shipping for your parts or accessories if:
Know more about our shipping offer here.
---
xFixxi Bikes also ships to the Canadian Northern territories and North America
If you're living in any of the three Northern territories of Canada, we do offer shipping with semi-assemble, too. However, please contact us first so that we can calculate the best shipping rate for you. These territories include:
Northwest Territories (NT)

Nunavut (NU)

Yukon (YT)
We also ship to the USA and Mexico. If you're interested in placing an order for these destinations, please contact us first, so we can provide you with an accurate shipping quote. We're here to ensure you have a smooth and hassle-free experience with us at xFixxi!
Refer to our Shipping Policy for details, and Terms and Conditions.
---